.
Sacramento Motorcycle Accident Trial Lawyers
If you're a motorcycle rider, you know a simple truth: you can't control what other drivers are going to do on the road. That's why most motorcycle riders take the precautions necessary to keep themselves safe —whether it's wearing helmets, putting loud pipes on their bikes, or gaining valuable experience by riding as much as possible.
But any motorcyclist knows he or she will inevitably have to contend with careless, distracted or indifferent drivers on the highway. A rider who's been injured in a Sacramento motorcycle accident knows that the collision is just the beginning. Afterward, there can be doctor visits, personal therapy appointments, calls from insurance adjusters and bills. It might be necessary to talk to a trial lawyer.
This article was written to discuss some of the laws related to motorcycles and California highways, as well as the type of compensation a motorcyclist injured on the highway might be entitled to. If you're a rider who's been involved in an accident, contact the office of Lawrance Bohm to see how he can help you get the compensation you need to get your life back on track.
Motorcycle Accident Statistics
According to the National Highway Traffic Safety Administration (NHTSA), in 2015, there were 4,976 motorcyclists killed in traffic accidents nationwide. This number represented an 8 percent increase over 2014. Motorcycles accounted for more than 14 percent of traffic fatalities.
In California 2015, the Governors Highway Safety Association reported that there were 38 fewer motorcycle fatalities in California than the previous year (total 489), the largest decrease of any state. However, because of the vast number of motorcycle riders in California, the Golden State ranks second to Florida in the total number of motorcycle deaths that occur nationwide.
Motorcyclists Have a Right to Share the Road
While motorcycles are entitled to access the same roads as automobiles trucks and buses, and are subject to the same laws, motorcycles remain at a distinct advantage when they're involved in collisions with other, larger vehicles. And when a motorcyclist is in a serious crash, the likelihood of the rider sustaining serious injury is higher due to this disadvantage.
One of the common refrains we personal injury attorneys here from drivers who collide with motorcycles on the road is "I didn't see him." In worst case scenarios, automobile drivers may collide with motorcycles because of a lack of respect for the rider's right to be on the road.
But whether a cyclist is injured because of a driver's honest mistake, or something more sinister, that cyclist is likely entitled to compensation. There are however a few do's and dont's those involved in a motorcycle accident should consider if they've been injured.
What to Do if You're Involved in a Motorcycle Collision
California Vehicle Code §20001 requires you to stop immediately if anyone has been killed or injured in an accident. California Vehicle Code §20002 allows you to stop at the nearest location that will not impede traffic if no one is injured.
Make sure you request medical attention for anyone who is injured so that they can be treated medically. If necessary, call 911.
Obtain insurance information from the driver of the other vehicle, as well as contact information of any potential witnesses.
If possible, use your cell phone to photograph the accident scene. If you are unable to photograph the scene, ask a witness to do so.
If you've been injured, make sure you get to a doctor as soon as possible so that your injuries can be documented.
In accidents where anyone has been injured or killed, California Vehicle Code §20008 requires the involved driver to notify the California Highway Patrol (CHP) within 24-hours.
Contact a motorcycle accident attorney as soon as possible.
What Not to Do if You're Involved in a Motorcycle Accident
Don't admit guilt. Even if you suspect you might have made an error in the moments leading up to the collision, let your lawyer decide who's at fault.
While a motorcycle accident can be a frightening event, and your adrenaline is flowing, don't let your emotions get the better of you. Try to remain calm when communicating with other drivers involved in the accident, as well as any law enforcement officer that arrives to investigate.
Don't sign anything given to you by another party or an insurance adjuster without talking to an attorney first (the only exception is a ticket issued by a law enforcement officer).
Liability, Negligence and Compensation in Motorcycle Accidents
Even if an automobile driver makes an honest mistake on the road that leads to the injury of a motorcyclist, that driver could potentially be liable for the damages caused. Honest mistakes include improper lane changes, left turns, failure to yield, and so on. Often, when a motorcyclist is injured in an accident of this type, the driver's insurance company will offer a settlement to cover the damages. In this type of situation, a lawyer can be helpful in ensuring that the injured motorcycle rider receives a fair insurance settlement.
There are also cases where the automobile driver's error on the road results from a lack of basic responsibility, in which case, that driver could be negligent. California Civil Jury Instructions §700 state that drivers have to adhere to a basic standard of care when driving. This means:
"A person must use reasonable care in driving a vehicle. Drivers must keep a lookout for pedestrians, obstacles, and other vehicles. They must also control the speed and movement of their vehicles. The failure to use reasonable care in driving a vehicle is negligence."
Negligence might be a factor if the driver of the car was:
Intoxicated
Talking on a cell phone
Driving aggressively
If you are a motorcyclist who suffered serious injury as the result of a driver's negligence, it may be necessary to seek damages in a court of law. You could potentially be eligible to receive:
Pain and suffering damages
Lost Wages
Punitive Damages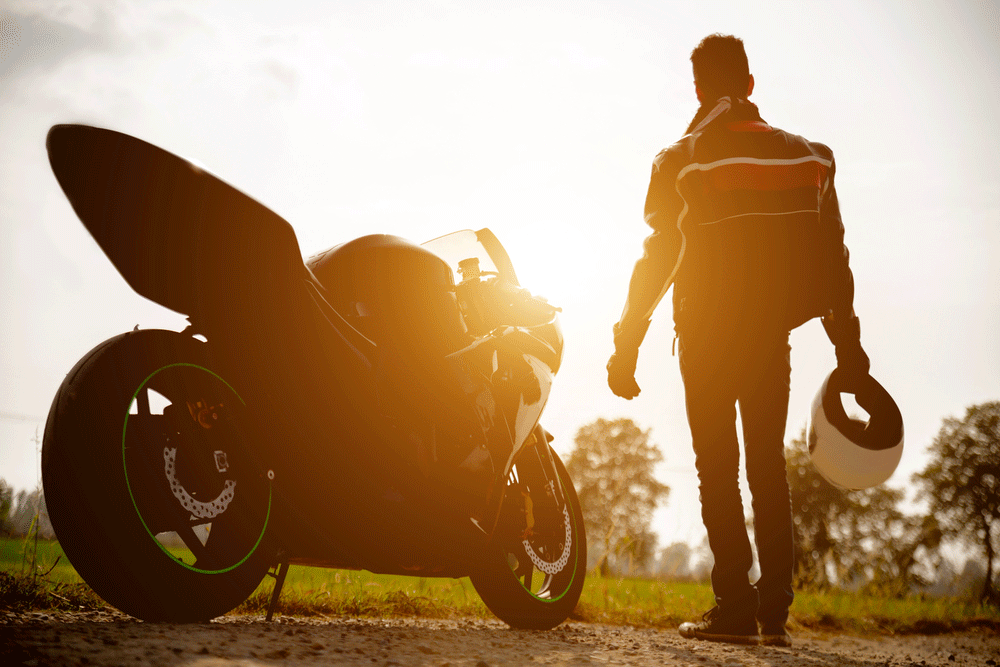 A Motorcycle Accident Attorney vs. Insurance Adjuster
If you've been injured by another driver while riding your motorcycle, you might get a call from the driver's insurance company. As nice and accommodating as this person might seem on the phone, it's important to remember he or she is NOT your friend. The job of the other company's insurance adjustor is to minimize payment made to you.
Conversely, if you hire a lawyer to help you deal with your accident, you are hiring an advocate whose job it is to make sure you receive the maximum settlement possible. You should absolutely contact a lawyer if you've been injured in an accident. This is especially important if you or a loved one has suffered something as serious as a brain injury.
If you've been injured in an accident, it might well be worth the time and effort to discuss your situation with an attorney before making any statements to an insurance company.
Contacting a Lawyer
 If you've been injured while riding a motorcycle, you owe it to yourself to discuss your situation with a personal injury attorney. There may be a number of professionals who examine the facts of the accident including: law enforcement investigators, the driver's attorney, insurance adjustors, and even city employees. Each of these professionals have different priorities and allegiances. If you hire an attorney, that professional's priority is to get you the fairest settlement possible. If you have questions about motorcycle accident law, or any other personal injury issue, contact our office to schedule a consultation.
SaveSave
SaveSave
SaveSave